On 18th January 1938 there were 15 signatories to a statement 'expressing their willingness to support a new Baptist church in the Yardley area'. Three months later at Yardley Council School in Church Road 25 founder-members proposed the establishment of a Baptist church premises in Rowlands Road.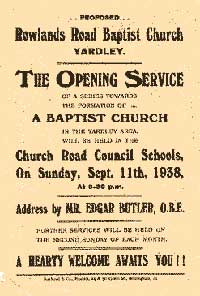 Sixty-five people attended the first Sunday service at the School premises on 11th September, with the expectation that a new church building would take only a year to complete. How wrong they were! Less than a year later the Second World War began on 3rd September 1939. As a result, the group had to move to St. Michael's Hall in Church Road, where members got used to bringing a piece of coal for the stove as fuel became increasingly scarce. March 1944 saw a further move to the Co-op Hall in Stoney Lane.
Peace returned to the country on 8th May 1945 and thoughts again returned to acquiring a property for the Rowlands Road site. In July 1947, Rev. R. R. Jenkins, a school teacher, became the honorary pastor. A concrete panel hall was finally opened on 3rd October 1948- just 9 years later than expected. The 18th January 1949 saw the constitution of the new independent Yardley Baptist Church with 45 foundation members. By late 1950 a Sunday School hall had been completed for 200 pupils.
In 1952, Bernard Green, an Oxford theological student was married, ordained and inducted as the first full-time minister. During his ministry the church became fully independent, witnessed over 100 baptisms, membership grew to 175 and preparations commenced for new purpose-built church premises.
Rev.Alan Edwards was inducted in July1962 and had the oversight of a 'modern' building which was completed in 1966. He described his 7-year ministry as 'constructive years in the life of the church with the building up of the Body of Christ'.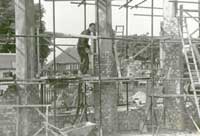 Rev.Howard Gordon commenced his pastorate in December 1969. In 1975, Roland Hill who had served as Church Secretary for 36 years resigned due to ill-health. Three members were elected to take over his many roles! Shortly after the formation of an Eldership, Howard announced his call to Zion Baptist in Cambridge. In his own words -'the foundations had been laid. It was time to hand over to others the task of continuing the work of building.'
Rev.Trevor Martin started his work as pastor at Yardley Baptist in April 1977. Under his ministry members were encouraged to turn Christian theory into action. Sadly, after joining the Armed Forces as a chaplain he was tragically killed in a helicopter accident in Canada.
Rev. David Morrell came to Yardley Baptist Church in 1981 and stayed 13 years. Eldership was re-established and in the Jubilee 50th Anniversary year a link was formed with a group of Christians in Buenos Aires. In a key article in 1988 – 'The Shape Of Things To Come' – David accentuated the work of the Holy Spirit in any Christian group-'creating a widening involvement in Christian service- to influence the community where we live in Yardley and beyond.'
Rev.Alistair Ross came as pastor in 1994 encouraging increased participation by members in leading worship, preaching and getting involved in housegroups. In 1999 Alistair moved to management in The Clinical Theology Association.
Rev. Sue Hardwidge came to us early in 2001. We were encouraged to learn about the true nature of mission and were challenged to think about our place in the local community. In particular, Sue introduced us to and played an active role in a series of Alpha courses. Sue left in 2008 to become the minister of a church plant in Stevenage, Herts.
Rev. Peter Everitt  the present minister came to Yardley Baptist Church in 2012.